SASFOR – November 22, 2011 —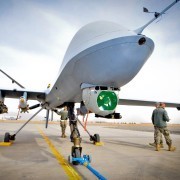 They are difficult to detect, deadly and cheap to build. Despite the dubious legality of assassinating suspected terrorists and Taliban without a trial, the market for drones is heating up around the world.
The future belongs to drones, remote-controlled unmanned aerial vehicles (UAVs) equipped with sensitive reconnaissance electronics and powerful precision weapons. Drones provide the kind of weapons system strategists have always wished for: They allow a military force to exert power while minimizing its own risks, and to carry out precise, deadly strikes, without sending its own soldiers into danger.
Source: www.spiegel.de
New Drone Sensor Could Instantly Spot Any Shooter | Drone's and Moan's | Scoop.it